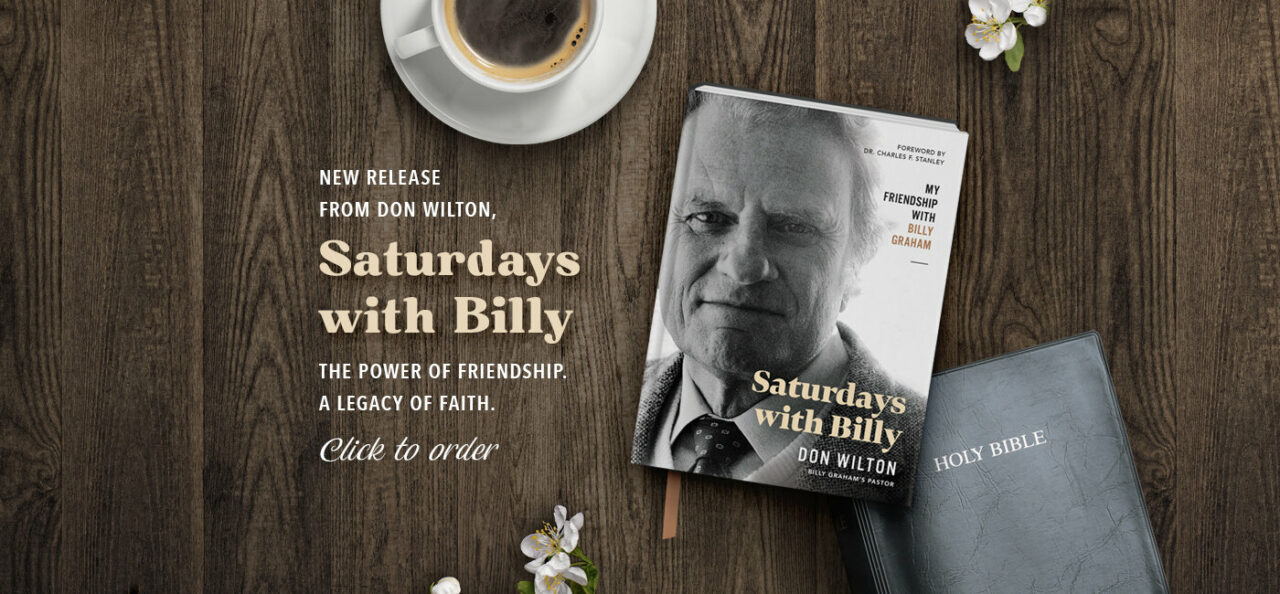 Pastor Don Wilton introduces
Saturdays with Billy
Read by Dr. Don Wilton in his own voice!
Most of us know Billy Graham as a man who preached God's Word to millions of people around the world.
But who was Mr. Graham to those who knew him personally?
For twenty years, Pastor Don Wilton drove the long road from his home in South Carolina to spend Saturdays with Dr. Billy Graham in North Carolina. There, the two friends spent hours talking about family, sports, politics, and faith.
In Saturdays with Billy, Pastor Don Wilton shares heartwarming stories of his times with Mr. Graham. Just as Billy Graham's words changed Don Wilton's life, they can change our lives today—a testament to a man who leaned on God's grace into eternity.
Christy Henderson interviews Don Wilton about
Saturdays with Billy
"Don Wilton was Billy Graham's close friend and pastor for many years. Saturdays with Billy provides insights most people may not have ever heard. It is very unique, and I am really excited and delighted Don has taken the time to add yet another dimension to Billy Graham's wonderful testimony for the Lord Jesus Christ."
— Dr. Charles Stanley
FOUNDER, InTouch Ministries

"Pastor Don Wilton spent many years as not only my father Billy Graham's pastor, but also his personal friend."
— Franklin Graham
PRESIDENT, Billy Graham Evangelistic Association

"I witnessed their friendship firsthand, two men who loved talking about all kinds of things, but mostly about Jesus. Excited about my dad's new book! 20+ years of Saturdays with Billy Graham talking about Jesus and praying for the world, just awesome!"
— Greg Wilton
CARE FOR REFUGEES DIRECTOR, Send Relief

 About The Author,

Don Wilton

Don Wilton has been the senior pastor of the First Baptist Church of Spartanburg, SC, for over 27 years. He is the founder and president of The Encouraging Word, reaching people in all 50 states and internationally through television, radio, and the Internet. He has authored many books including Totally Secure, The Absolute Certainty of Life After Death, and When God Prayed. Dr. Wilton is a highly sought-after Bible expositor and is a frequent speaker for the Billy Graham Evangelistic Association, The Cove, Samaritan's Purse, and universities and seminaries around the world. Don and his wife, Karyn, have three grown children who serve the Lord in ministry. They are the proud "Chief" and "Duckie" for eight grandchildren.
Available in Audiobook, Hardcover, or Digital Copy
Choose a seller from the options below to order your copy today!